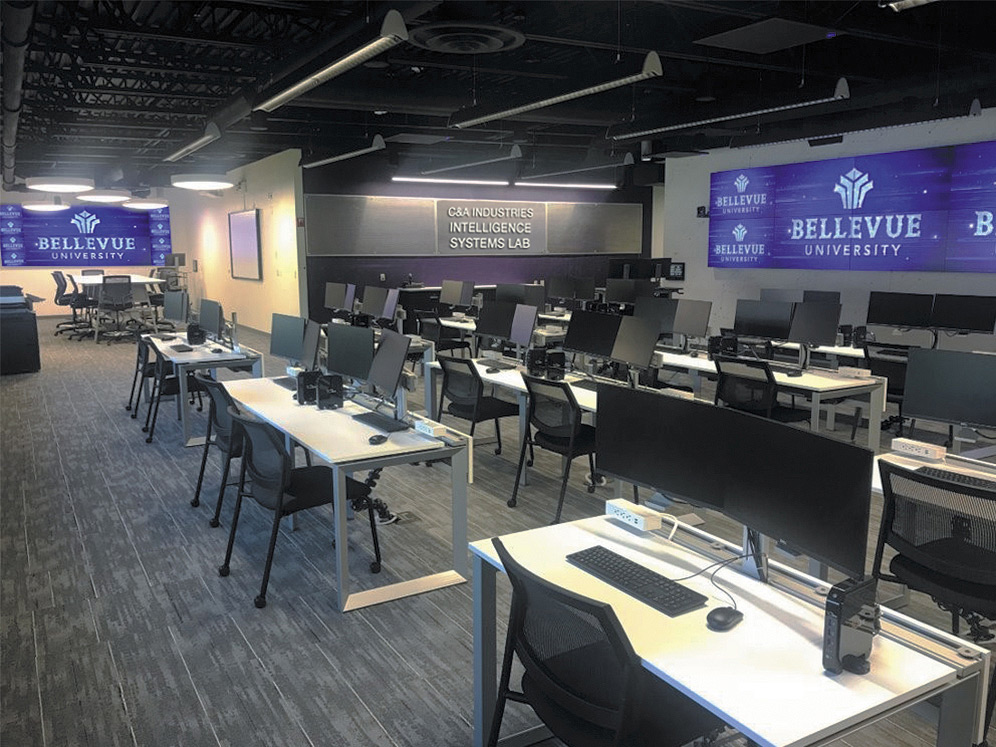 Extron Quantum Ultra Drives Two High-Performance Videowalls at Bellevue University
From the instructor's standpoint, the ease of use and reliability of the two videowalls driven by Quantum Ultra make this lab their favorite classroom on campus. The flexibility to display lesson materials and live content in any window arrangement helps teach, motivate, and inspire creativity in our students.
Challenges
As enrollment grew at Bellevue University's Security Management programs, it soon became apparent they would need additional instructional space to keep up with the burgeoning demand. The university decided to create a new state of the art cybersecurity lab at their campus in Omaha, Nebraska, with an impressive videowall display. Sources would include rack-mounted computers with DisplayPort or HDMI outputs, connected AV devices, Mersive® Solstice pods, and Apple® TV feeds. CCS Presentation Systems was brought on board to spearhead system design and integration.
The lab is an L-shaped space with a low ceiling that had previously been used to store furniture. The design called for a 6x3 videowall, but the design team quickly realized that the suspended HVAC ducts would obstruct full visibility of it. To accommodate the ceiling architecture, it was divided into two videowalls, making the lab more flexible for the various programs' needs.
Quantum Ultra Provides Ultimate Flexibility
The new Intelligence Systems Lab encompasses two learning areas and an equipment room behind one wall. Each learning space includes a Planar ® Clarity ® Matrix ® G3 videowall. The main instruction area features nine student workstations, an instructor lectern, and a 6x2 videowall mounted on the long front wall. The smaller space includes a conference table and a 3x2 videowall. Students use it for research, brainstorming, and assignment collaboration, accessing the same sources available in the main lab. An Extron Quantum Ultra 610 videowall processor provides windowing of selected content and live feeds for both videowalls. Sources can be shared or displayed independently per videowall.
The videowall processor's 10‑card slot frame is configured with five IN4HDMI input and five OUT4HDMI output cards. It handles image scaling and source switching internally, managing both videowalls with varying source resolutions and window arrangements. Some of the many capabilities that led to selection of the Quantum Ultra include a robust Vector™ 4K scaling engine, 400 Gbps HyperLane ® high-speed video bus, and fast, accurate auto-detection of sources. Also, the embedded operating system that resides on a write-protected, solid state storage drive and redundant, hot-swappable power supplies ensure dependable operation. This reliability was of top interest to the university faculty as well as the administration.
To extend signals from the lab to the equipment room, DTP HDMI 4K 230 Tx transmitters are installed in the lectern and workstations, as well as beneath the collaboration table. Two Extron DXP HD 4K PLUS Series HDMI matrix switchers feed these signals to the Quantum Ultra. They also send any audio signals to the sound system. An Extron XPA U 1002-70V amplifier distributes audio to ten SF 3PT SoundField ® 3" Full-Range Pendant Speakers in the lab and four of the same discreet model in the collaboration space.
The AV system is controlled using an Extron IPCP Pro 360 IP Link ® Control Processor and two TLP Pro 1520MG 15" TouchLink ® Pro touchpanels. One is wall-mounted beside each videowall. An intuitive interface enables instructors and authorized students to easily select any of the nine window layout presets or a free-form option. Any source can be assigned to one or more windows. For remote operation, the staff uses iPad ® tablets to run the Extron Control app, which mirrors the touchpanel interface.
Results
Professors and students alike were immediately able to operate the videowalls with ease. Students also enjoy the freedom of combining their skills within the collaboration space. According to Dan Ross, Director of Integration for CCS Presentation Systems, the Intelligence Systems Lab is the favorite classroom on campus: "Part of the beauty of using Extron is that you can make it really simple for the end users on the front end, while still maintaining ultimate flexibility and functionality on the back end."